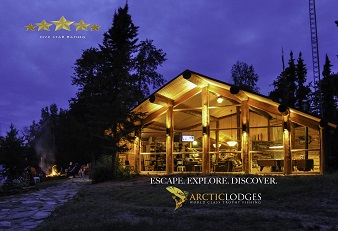 Fishing in North America
Arctic Lodges is a premier lodge located in northern Saskatchewan maintaining pride and tradition in being a wilderness lodge. We are a full service, remote fly-in lodge positioned perfectly to enjoy fishing for varied species of trophy fish. Northern Pike, Lake Trout, Grayling and Walleye await you. We're incredibly fortunate to have an extraordinary and reliable bounty of fish in Reindeer Lake! Our historic lodge is warm and welcoming and we encourage our guests to treat the lodge like home during their stay. Whether you're planning a fishing experience with friends, family or as a corporate retreat we have what you're looking for. Discover Arctic Lodges' Canadian hospitality and the fishing Reindeer Lake has to offer.
Your dining experience is a big part of the Arctic Lodges fishing adventure. With our team of world class chefs we offer some of the best cuisine you will ever experience. Instead of forcing our guests to eat pre-selected meals like most other lodges, we give our guests a menu of gourmet dishes to choose from, made with carefully selected fresh ingredients. With our guests concerns in mind, we ensure that your dietary restrictions and allergies are noted.
 Since 1950, Arctic Lodges has satisfied thousands of adventure seeking anglers all over the world, putting Reindeer Lake on the map for one of the best fishing habitats around that produces record sized fish.
With over 65 years of exceptional reputation, world class service and some of the world's best fisheries, it is no wonder we are one of the best in our industry.