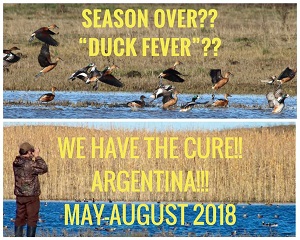 Hunting in South America
Hunting with Dagar Adventures Argentina should be on every Waterfowlers bucket-list.
The team at DAGAR is tireless when it comes to scouting the very best lakes, marshes and creeks.
When hunting with us you will have the opportunity to take multiple species of ducks! short drives and hunt from easy access comfortable blinds….most of cases dry blinds!
Perdiz hunting over pointer dogs and doves shooting are also some of the reasons why is the favorite mixed bag destination of many hunters heading to Argentina.
Put Argentina and DAGAR Adventures Argentina on your bucket-list!!​
DAGAR Adventures Argentina is owned and operated by Damian Garcia. Damian has spent his entire life in the hunting industry. He started out as a guide for big game and wingshooting in the Southern Buenos Aires Province, Argentina. Eventually, he started his own outfitting business that currently specializes in mixed bagged wingshooting in addition with Big Game Hunting.
DAGAR Adventures goal is to provide our fellow hunters with a world class Argentine hunts accompanied with personal and exclusive attention one group at the time.