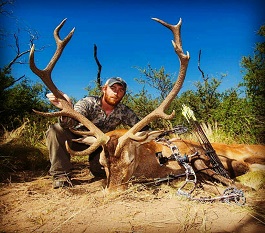 Fishing & Hunting in South America
Hunting is what we do. That's why we can provide you with one of the best Red Stag free range full-service hunts in Argentina conducted in our La Pampa private Ranches.
Poitahue Hunting offers free range action through more than 85,000 acres of natural productive land which provide our fauna with excellent pasture and food, a priceless protection for several game species and birds against the harshness of winter.
Pure free range Big Game hunting over several Big Game species. Our worldwide known Red Stags and 13 additional species plus excellent wingshooting options for Doves, Pigeons, Perdiz and Ducks.
As a proof of our high end hunting services, you may find interesting to know that we have developed a long term relationship with different outfitters and pro hunters as Craig Boddington, Jim and Eva Shockey, Brian the Pigman, Joe Thomas, Doug Koenig, Gus Congemi and more