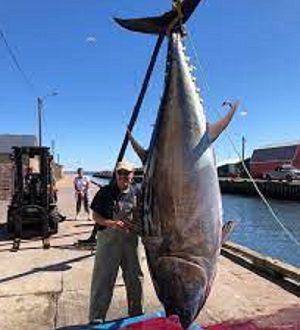 Fishing in North America
Islands End Tuna Charters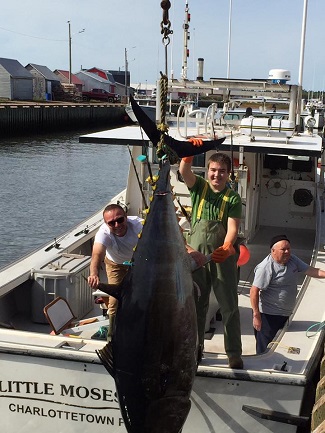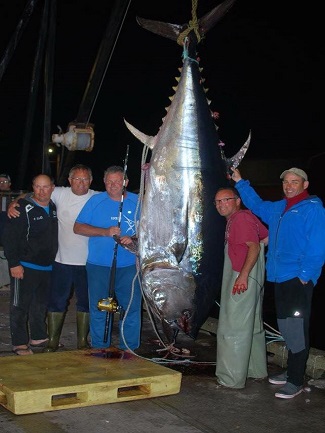 Most PEI bluefin tuna charter days consist of 8 hours aboard the Little Moses, which will include snacks, drinks, and all fishing equipment needed.  We can accommodate most travel schedules and discounts are available for multi-day fishing excursions and travelers that stay at the Island's End Motel.
The Little Moses was built in 1998 by Four Ports Marine in Morell, PEI.  She is 44 feet long and 13 feet wide.  She is equipped with a 430 Cummins motor and at top speed will hit 22 knots.  She is equipped with the latest marine technology. The cab is equipped with sleeping quarters, cooking facilities and lavatory.
Safety is the captain's top priority as he proudly displays the blue decal indicating he is a participant in the Small Vessel Compliance Program, meeting all legal obligations and safety requirements for this vessel.
In 2017, Neil took an Australian fisherman out fishing to beat the International Game Fishing Association Book of World Records on a 50 lb test line, which was 897 lbs.  The fisherman fought that tuna standing for 5 hours which measured at 1,008 lbs.  Normally when fishing for tuna, fishermen use a line with a breaking strength of 200 or 250 lbs.
First week in August 2 day charter with, up to 6 anglers.
Last Minute Special: 3700 Canadian total!
Includes  Motel room for 3 nights.
Day rates also available.
Don't miss out on this Angling adventure!
check this out: https://www.youtube.com/watch?v=Mzz-xcWKHjo&t=27s
Contact:
Neil Perry
We are situated at the Tignish Shore Harbour!