Hunting in North America
Rib Creek Outfitters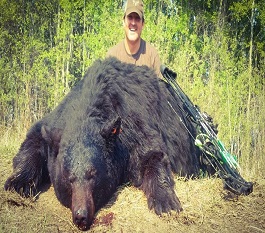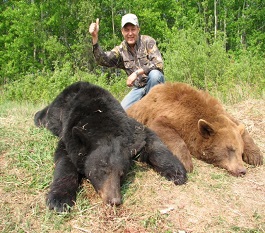 Alberta Spring Bear Hunt 2019
Rib Creek Outfitters is offering Alberta Spot and stalk black bear hunts in the foothills of the Rocky Mountains in Western Alberta.
The area is comprised of giant tracts of untouched old growth coniferous forest with scattered logging slashes, cut lines, and aged over roads filled with lush spring forage the bears rely on when they first leave the den as the weather warms.  The hunt is during the rut and often times bears are spotted "chasing" much like a whitetail or mule deer buck would dog a hot doe…once a bear is located a plan is put in place for the stalk.  The wind being the largest factor as a bears nose is his best defense,  if the wind stays right slipping in undetected is the norm making this a challenging yet very doable archery hunt.
We use 4×4 pick up trucks to travel through the hunting area glassing at numerous spots that are known to hold bears through out the day, finding them on the roads as well.
The hunts are 2-1 but 1 on 1 hunts can be arranged with a price adjustment.
Clients will fly into Edmonton International Airport and will be picked up the next day from the hotel for the ride to the area.
Available dates:
2019: June 2-8
Included in the cost of the hunt:
Meals and lodging, six days of trophy bear hunting, transportation during the hunt, trophy prep for flight home, and your guide.
Not included in cost of hunt:
$500.00 license fee and accommodations before and after your hunt dates.
Regular price:  $5500
Last Minute Special Price:  $4500
For booking and more information on our other species contact:
Don't forget to ask about our 2018 Hunting recap!
Call Zach for your dates.
Have a look at our Facebook page: > https://www.facebook.com/RibCreekOutfitters?ref=hl
For booking and more information on our other species contact:
Zach Bowen
Phone: 780 608 5259
Email: ribcreekoutfitters@lynxnet.ca