Hunting in North America
Rib Creek Outfitters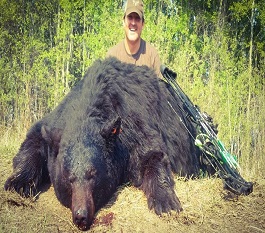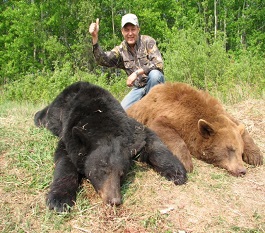 Alberta Spring Bear Hunt 2019
The hunting area consist of vast old growth timber intersected with pipelines and cut lines we use these to get our bait sites back into the bush, where they have been for the past 20 years.
Most of our bait sites have bear tracks right to them in the spring before they have been baited.
A client can expect to see 3-5 bears per sit but its not uncommon to have 5 or more bears around the stand at the same time.
This is a very successful two tag hunt with 98% of our hunters going home with both tags filled, sometimes taking both bears the same night.  last season we took 18 pope and young bears with 3 being over 20 inches, and 2 over 21.  A few of which were color phases ranging from dark brown to light blonde.
Accommodations for the hunt is a clean, spacious lodge giving every client his or her own bedroom with satellite TV. Delicious meals which are cooked by our in house chef insure that you will not loose any weight during your 6 day hunt with us.
If your looking for a jet black giant or that rare blonde color phase in a extremely comfortable and fun hunting camp with high success rates our professional experienced guides can help you get them.
Archery hunting is encouraged as shots range from 15-25yds
Feel free to contact us for more photos, dates and species available, and pricing as well as a our reference list of past hunters
Hunt Dates are:
May 12-17-2019
Or 26-31-2019
Hunters will be picked up from the hotel on Sunday the 12th of may in the morning so flights into Edmonton airport will need to be on the 11th.
Hunters are driven back to the hotel on the 18th
Regular price is 5500 U.S.
Last Minute All in Special:  due to cancellations we are offering 4 hunts at 4250.
Which includes all licensing and tax, transportation to and from the hotel and during the hunt, all meals and lodging.
Contact Zach for any questions about the hunt, so you don`t miss out on this great experience!
Have a look at our Facebook page: > https://www.facebook.com/RibCreekOutfitters?ref=hl
Zach Bowen
Phone: 780 608 5259
Email: ribcreekoutfitters@lynxnet.ca