Hunting in North America
Rib Creek Outfitters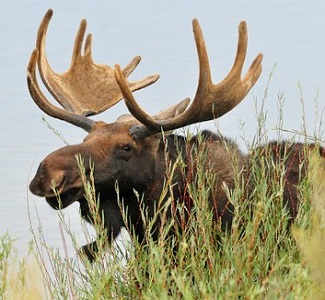 Alberta Archery Rut Moose Hunt 2019
Update!   one spot left, don't miss out!
Rib Creek Outfitters Canadian Moose Archery Rut Hunt takes place in the Boreal Forest of Northern Alberta during the peak moose rut/calling season.  Rivers, muskeg swamps, large burns and old growth forest combined with a vast amount of inaccessible area allows the Moose to thrive.
Accommodations: 
 

Our lodge is centrally located in the area we hunt, this keeps our travel time to and from the lodge to a minimum while hunting. It also allows us to maintain the comforts of home and instill the hunt camp vibe in a remote area of Alberta often restricted to tent style camps.
 The lodge is approximately 3 hours drive from the Edmonton Int Airport (YEG)
 Each client will have his or her own room during the hunt
 Delicious meals and fresh baked goods are prepared daily by our in house chef
 Cell reception and WIFI
 1800 sq. ft. common area with big screen tv (satellite feed).
Moose Hunting:
 

Your hunt will take place along the cut lines, rivers, and swamps surrounded by hundreds of miles of Boreal Forest. Calling will be used and is the most effective method to harvest old rutting bulls as they are already seeking breeding cows.
 1×1 hunting with our highly experienced guides ensures you are always the shooter.
 Shots average 20 to 60 yards, so average is around 30 yards.
 ATV's are used as transport once in the bush.
 Our Moose average around 40 inches in width but 50 inch plus moose do frequent the area and are taken yearly.
 We run near 100% opportunity
 Contact for dates:
 Regular price: 7500 USD + $500 licence per species
 Last Minute Special price: 6000 Usd 
This includes pick up and drop off from the Hotel located near the airport on the hunt start and finish dates.
All licenses and taxes. 
Meals and lodging.
Transportation within the hunting area during your hunt.
Not Included:
 Shipping of trophies
 Taxidermy
 Meat processing
 

Alcohol
 Gratuities to guides/chefs
Travel info and forms:
All hunts begin on Sunday and end on Saturday unless otherwise stated.  It is Mandatory that Clients schedule flights into Edmonton the Saturday before the hunt start date and suggested that they arrange to fly home no earlier than the Sunday after the hunt end date.  This is especially important if flying home with your trophy and or meat.
Contact:
Zach Bowen
Rib creek Outfitters
Phone: 780 608 5259
Email: ribcreekoutfitters@lynxnet.ca