Hunting in North America
Tombstone Outfitters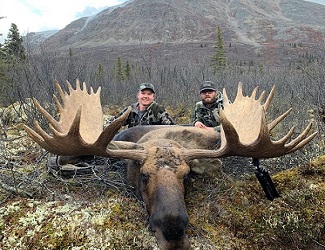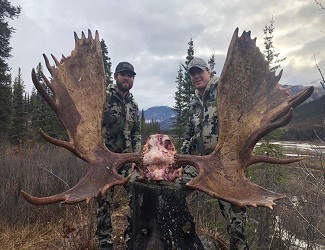 Land of the Giants……Yukon Moose
We offer traditional horseback hunts for Moose. Horseback hunts allow us to venture into remote areas where we have harvested some remarkable Moose with mature bulls averaging 58″-60″, although we have also taken trophies measuring in the 70″ range. We have a 95% success rate and it is quite common to harvest another animal with our Moose hunts. A Moose-Caribou or Moose-Grizzly combination is quite popular in our area. Tags for all the animals are included in the hunt price. Harvest fees are extra for any additional animals harvested.
Our typical Moose hunting terrain is mountainous with wide treed valleys, lots of high willow ridges, muskeg and small ponds. We have several comfortable camps with cabins throughout the area, but be prepared to travel with a spike camp. We use Beckel canvas tents with our traveling hunts. As per Yukon law, each hunter has a designated guide and unless otherwise requested there is only one hunter per camp.
Tombstone Outfitters offers five moose hunt dates per season each lasting 10 full hunting days with a day on each end to allow for travel time in and out of camps. We pick up our hunters at the Dawson City airport and then transport them to camp.
Hunt dates: September 3-12, September 14-23, September 25-October 4, October 6-15
For additional harvest fee Sheep, Caribou and Grizzly can be added to this hunt.
 Prices are all included price. License, tags, trophy fee, hunter preservation fund, taxes and charter flights in the area.
Harvest fees only apply when optional animals are taken or wounded.
Last Minute Canadian Covid Special: 25,000 all in. 
That's over 10K in savings!
To reserve your spot contact:
TOMBSTONE OUTFITTERS
Frank Wesley
PO Box 486
Lethbridge, AB
T1J 0N0