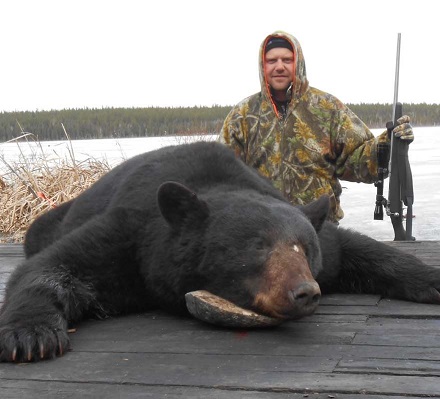 Hunting in North America
Ameri-Cana Expeditions Inc.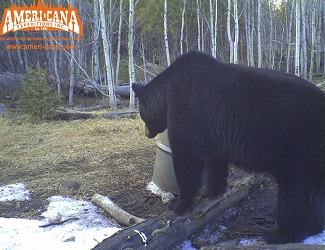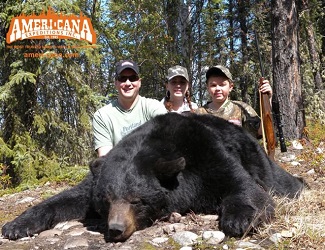 Saskatchewan Monster Spring Bear:
Canadian Residents can join us in Northern Saskatchewan this May!
We are in a one (1) bear per each license area. It is estimated to have between 60-70 thousand black bear and we hunt in Northwest Saskatchewan. The area is just north of the Meadow Lake Air Weapons Range, which is a 1700 square mile game preserve with no hunting. By hunting the area north of the Weapons Range, we are assured of a great number of mature bears. The average bear in Saskatchewan is between 6-6 ½ feet nose to tail. Our average is between 6 ½ – over 7 feet nose to tail. This is really trophy hunting!
Our established baits have produced our biggest bears this year. With expansion in the logging and oil industries we will again have more new areas to hunt. At present we are tending over 150 miles of baited roads and trails.
Great Accommodations:
Our camp consists of several wood cabins; all having both wooden floors and bunks. There is a maximum of seven per cabin. The cook area is a 16'x 26' log cabin, which is on a cement floor. All the cabins have electric heaters in them. These cabins are very spacious and, in bad weather, you are high and dry off the ground. There are electric lights in each cabin and we have water pressure for hot showers. Also included in camp is a very luxurious building built which houses a hot sauna and showers.
All guide services
Food and Accommodations during your hunt with us
Care of trophies
Limited dates remain so don't miss out on this one:
May 16, 17, 18 Arrive a day before and depart a day after.
May 19, 20 ,21 2021
Last Minute Special: 3250 cdn.
Fishing is available for 100.00 per day.
Call 780-469-0579 or
Email: ameri.cana@shaw.ca
Nick Frederick
Ameri-Cana Expeditions Inc.
Phone: 780-469-0579