Hunting in Asia
Asian Mountain Outfitters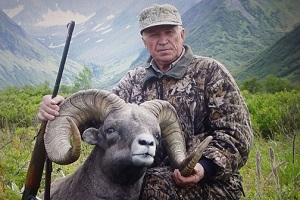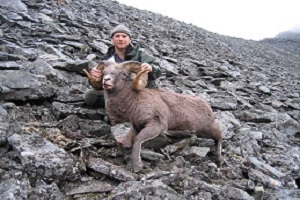 We have a couple openings for a single species or combo hunt:
Dates area July 27 to August 18th 2019 for the Combo hunt or the hunt can be split into early a late July Start or around August 7th.
Travel to the Kamchatka to hunt Russian Snow Sheep. This hunt is conducted using a small helicopter and backpack style mountain sheep hunting. Hunters need to be in good physical condition and capable of carrying their own backpack. The hunt is comparable to a NWT Helicopter assisted backpack Dall sheep hunt as we use smaller helicopters instead of big military choppers. This allows us to drop off the hunters in the alpine and each hunter has his own area to hunt. This avoids the common problem of the hunt group starting in one location and hiking to and from base camp each day. We take groups of 2 to 4 people per area and there is no "base camp" as on most Russian hunts. Hunters need to bring their own optics, small tent, stove, backpack, Garmin In-reach, Iridium or Inmarsat satellite phone, personal equipment/gear and some backpack food. Hunters also need to be knowledgeable in trophy care. Fog, snow and/or rain are common; hunters need to be experienced in mountain hunting, long-range shooting (200-500 yards) and comfortable with spiking out in backpack style tents. This hunt includes 5 to 7 days of hunting, depending on weather plus helicopter flights from Kamchatka to the hunting area and back. Each hunter has one guide. Packers are available for an additional cost. Typical ram sizes are 32-39". Snow sheep of 40"+ have been taken, but animals of this size are rare. The hunting season starts August 1st and goes through September. The winning bidder needs to coordinate their hunt dates with one or two of our other clients or they can help book a friend or two. Early August dates are best for milder weather. Late August and early September often have snow. Later season hunting is for the very fit, experienced and adventuresome hunters as it can be difficult due to more challenging weather conditions. This hunt includes one Russian Snow Sheep with no additional trophy fees. Hunter is responsible for the flights to and from USA to Moscow and the commercial flight(s) from Moscow to the hunting area. Some of the helicopter flights are included into the hunt price, but most hunter will have $2500 to 3500 in extra helicopter flight costs. A Russian Visa, lodging before or after hunt and staff tips (about $2,000) are additional costs. Most trophies will need to be shipped; when possible, we will try to sending trophies home with our hunters but it depends on many factors and cannot be guaranteed. If the hunter does not have a shot opportunity at a mature sheep, a partial credit will be applied to a future hunt. A non-hunting companion is welcome for $2,500 plus chopper fees. If permits are available, an additional sheep can be added in the same area for $11,500. Brown or Grizzly bear can be hunting on trophy fee of $7,500. In the northern area, caribou are sometimes an option for $5,500. We also organize hunts for different sheep species, so if the hunter wants to hunt 2 different sheep species, on 1 trip, this can be arranged for $23,000 plus flights & chopper and hunters need an additional 8 to 9 days. A Snow sheep hunt is the same basic price as a Canadian Dall sheep trip or ½ price of a bighorn or stone sheep hunt. Snow sheep hunts are a really good value in mountain hunting. Our Russian outfitting partners/manager speak English they organize the hunting territory, local guides, camp help, choppers, gun permit, Visa and camp logistics.
For further details and availability please email the office on asianmountainoutfitters@gmail.com.
Asian Mountain Outfitters
Bryan Martin, Asian Hunting Outfitter
Email: bryankmartin@gmail.com
Phone: (250) 317-5525
Website: https://asianmountainoutfitters.com/