Fishing in North America
Fortress Lake Wilderness Retreat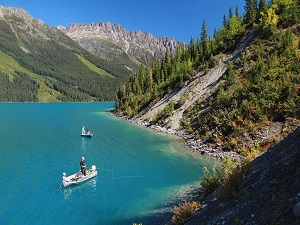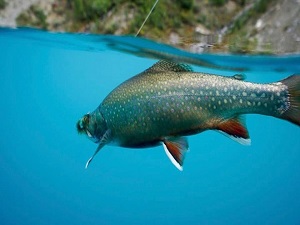 Rocky Mountain High!
This is an Incredible Experience you will never forget:
Helicopter Fly in fishing!
Fortress Lake is tucked away in a stunning, remote valley of the Canadian Rockies and is dominated by peaks towering a mile directly overhead and glaciers in a 360 degree "Fortress". Fortress Lake offers some of the largest brook trout on the planet. Fortress Lake Wilderness Retreat provides trophy brook trout anglers a full service lodge accommodation, semi-guided fishing experience. The Fortress Lake valley also provides hikers, canoeists, and kayakers a back country oasis to discover. A 25 km perimeter provides stunning lake vistas, and several hiking trails. Fortress Lake is kitty corner to Jasper and Banff National Parks and Lake Louise, located in the province of British Columbia's Hamber Provincial Park, and is an integral part of the Canadian Rocky Mountains UN World Heritage Site. This remote location is accessed by helicopter.
Check out this Video: https://www.youtube.com/watch?v=3lKwyyp3dNQ
Save huge!
All inclusive packages include: Accommodations at Fortress Lake Retreat; all meals, snacks, & non-alcoholic beverages, along with a small selection of house white and red wine and domestic beer. Hard Alcohol, special wines and beer can also be purchased at an extra cost; semi-guided fishing & sharing of lake knowledge; use of power boats & canoes/kayaks; trail & paddling knowledge.  Alcohol, flies, lures, fishing gear/supplies available for purchase.
Last Minute 2020 Special:
June 8th. – June 19th.
Take 20% of any package………prices are in Canadian funds so you will save even more with U.S. Exchange!!!!!!
Out of Cline River, AB
4 days – CDN $3,799 (Friday to Monday)  *3039.00 Cdn.  
5 days – CDN $4,199 (Monday to Friday)  *3359.20  Cdn.
8 days – CDN $5,499 (M-M or F-F)             *4399.20 Cdn.
*Price Per Person, based on double occupancy.
Shuttle service pick up in Calgary(only) to and from Cline River Heli-base $300
Contact:
Craig Somers
Fortress Lake Wilderness Retreat
Email: info@fortresslake.com
Website: www.fortresslake.com
Phone: 403-899-8815