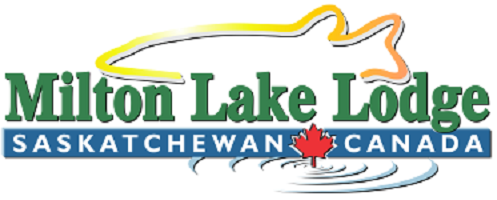 Fishing in North America
Milton Lake Lodge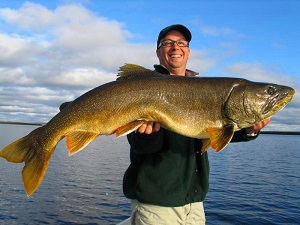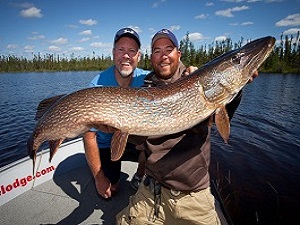 Milton Lake Lodge is a luxury, fly-in fishing lodge in Northern Saskatchewan, Canada. It is a small intimate lodge and we prefer a maximum of 8 guests so that we can provide you with the best service and unbelievable fishing opportunities now and for years to come. This limited time offer can give you a once in a lifetime opportunity to be one of the first people to ever experience these virgin waters.
SUMMER SPECIAL: LIMITED-TIME OFFER MILTON LAKE LODGE
We are giving you an exclusive opportunity to come experience the best in luxury, remote, trophy fishing. During July and August you can get a 5 day fishing package for the price of a normal 4 day trip. If you have a group of 4 people or more we will reduce the package even further saving you $800 per person off the regular package price!
Because we are so far north and the water doesn't warm up that much we have the opportunity to target large northern pike in shallow water all season long. Sight fishing for giant northern pike is a real treat, especially when you can do it all summer long!
In the warmer months the lake trout school tightly in deeper water and it is a great opportunity to sit on top of them and catch fish, big fish, all day long! Catch them by vertically jigging or sinking a fly line down and get ready for the hit!
In 2019 our guests will be given an opportunity that is incredibly rare. With the purchase of a hovercraft we will be able to access water that we have never been able to access before. Previously restricted by rivers and rapids we can now open up river systems that have never seen an angler. That's right, virgin water that we will be exploring for years to come.
This changes everything!
We will now have access to complete river systems which hold untouched populations of arctic grayling. We will also be able to reach new areas of our lakes holding giant northern pike and lake trout that have never seen a hook.
SUMMER SPECIAL: LIMITED-TIME OFFER MISEKUMAW LAKE OUTPOST
Misekumaw Lake is a very special place. Renowned for producing good numbers of really, really large trophy Northern Pike it is the ultimate destination for the adventurous pike aficionado.
For the adventurous angler who is looking for the experience of a lifetime we are offering a 7-day trip for the price of 5 and up to $600 off our packages!
Only accessible by travelling 130 km (80 mi) by float plane this is the ultimate in remote, unpressured, pristine water. You will have the entire lake to yourself!
What's better is you choose what happens. No guides. No schedules. Your rules.
The outpost has 3 comfortable cabins, a kitchen/dining cabin and showers. It is equipped with 16' Lund boats equipped with sonar/GPS and all the essentials. We make sure that you always have a full tank of gas and a list of hotspots worth hitting.
Check out the website for more details and let us know when you're coming!
Contact:
Nick Parkes
General Manager
1-855-347-4244
Email: info@miltonlakelodge.com
Website: www.miltonlakelodge.com
Facebook: www.facebook.com/miltonlakelodge