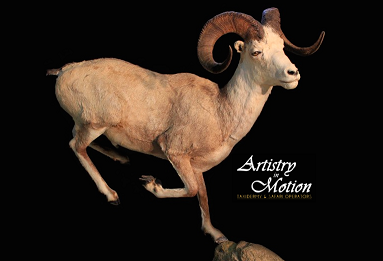 Hunting & Outdoor Adventures in Africa, Asia, Europe & North America
Universal Safari Outfitters a Division of Artistry in Motion is Canada's largest taxidermy studio, providing the highest quality mounts.
We do everything from life size mounts, shoulder mount, tanning, birds, reptiles and fish.
There is nothing we cannot reproduce whether it's a gravity defying pose or the most detailed exotic species.
We have had the opportunity to mount species from across the world for clients, museums, film producers and institutions globally.
We provide custom trophy room designs from start to finish creating unique living spaces. we also book our clients internationally on their dream hunts on our own concessions creating memories that will last a lifetime!
At Artistry in Motion Taxidermy we take care of our clients at every point on their journey.
We will book your safari according to your need, our team will take care of the rest.
The logistics of you and your trophies will be coordinated prior to your safaris.
All you have to do is attend and enjoy the experience.