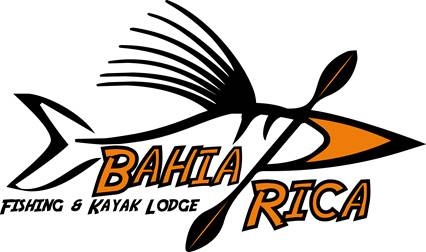 Fishing & Outdoor Adventures in Central America
Costa Rica Sport Fishing Lodge
A different experience in Costa Rica!
Here at Bahía Rica we offer complete Costa Rica sport fishing packages after fish like Pacific Sailfish, Roosterfish, Yellow Fin Tuna, Wahoo, Pacific Jack Crevalle, Almaco jack, Snapper, grouper, blue marlin, black marlin and striped marlin. We have 2 lovely Costa Rica sport fishing boats to choose from.
Our artsy wooden sport fishing and kayak lodge is perfect for people that want to enjoy a calm atmosphere away from the main tourist trails. The place is perfect for relaxing in a hammock and enjoying the jungle sounds.
Costa Rica Sea Kayaking Tours
Experience Costa Rica's exotic west coast from a sea kayak. At Bahía Rica we have a variety of sea kayaking tours to choose between. Our sea kayaking tours takes you along the beautiful coast line of the Nicoya Peninsula, we explore mangroves, slow rivers, dozens of island and virgin beaches.
The Bio-bay of Costa Rica is right in front of our doorstep, after dark we can take you on a kayak tour to enjoy the magic of the bioluminescence in the water.
Costa Rica Stand Up Paddle Board
Stand Up Paddle Boarding is the fastest growing water sport ever!
It provides you with a total core workout that will leave you wanting more. Come enjoy this awesome sport with us, rent a board and get out on the beautiful Gulf of Nicoya.
Costa Rica Boat Tours
Isla Tortuga with it's crystal clear snorkeling water and white sand beach is just a short boat ride south, and on the way we visit an island with the acrobatic Spider monkeys.
Impressive Humpback whales visit the Gulf of Nicoya every year between July and December. Experience these amazing mammals close up on our whale and and dolphin watching tours.