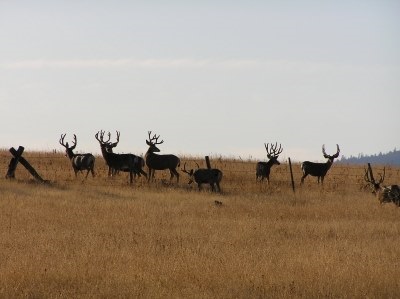 Hunting in North America
At Cody Cole Guide Service we exclusively hunt 15,000 acres of private land located in the heart of some of the best Mule deer and Elk hunting in the state of Oregon.  The ranch we hunt is in a remote part of Eastern Oregon, in Grant Country, near the small town of Long Creek.
Over the past few years I have added additional joining properties to the hunting operation to further grow the hunt possibilities.  In addition to quality Mule deer and Elk, it also holds many Antelope as well as an abundant amount of Turkeys.  Both Rio and Merriam's birds.
We also provide a quality Horseback Elk Hunt done on USFS Permit in the Murderes Creek Unit. By using horses on this hunt, we are able to save our legs and get guys into a position to locate bulls every time we are out in the field.  You don't have to be in great shape or be a great horseman to have success on this hunt.  I have a wide range of horses and mules that can fit everyone's comfort level.  They come in especially handy when it comes to time to pack out a bull that is down in a hole.  It makes everyone's jobs so much easier in the retrieval.  In my opinion, it is a great sight to be seen watching your bulls come out on a mule after a successful hunt.  This is a bucketlist type hunt ,one that you will have many memories for years to come.