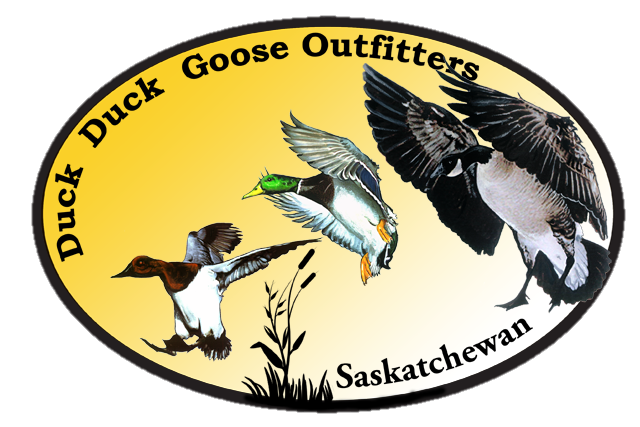 Hunting in North America
DUCK DUCK GOOSE OUTFITTERS IS LICENSED AS AN OUTFITTER THROUGH THE SASKATCHEWAN MINISTRY OF ENVIRONMENT (LICENSE #C3026) AS 101076424 SASKATCHEWAN LTD.
Come hunt along the Boreal forest in Saskatchewan, Canada.
We offer superb hunting, first-class accommodations and the best meals you will ever taste. Millions of birds feed in our backyard each fall before they migrate south. This creates huge potential for prime waterfowl hunting.
Your guides and owners are Keith Heisler and Rick Poulin. Keith and Rick have lived and hunted in the area for more than 40 years. Our bird hunting area spans well over 1,360,000 acres and contains an abundance of small and large bodies of water, surrounded by crops of peas, barley, wheat and oats. This creates tremendous opportunity for our clients to be the first to hunt these magnificent birds as they migrate south.
Scouting is done 2-3 days prior to hunting any field. Hunts are set up using prime decoy equipment and blinds.
The morning hunt starts with a continental breakfast, and then it's out to the fields for the morning goose hunt. When the morning hunt is over, we will head back to camp for a delicious, hot breakfast made by our camp cook and some well-earned R&R!
In the afternoon, we will be field hunting ducks if you haven't already limited out in the morning. If you have your limit, you are welcome to hunt upland game birds such as Ruffled Grouse, Sharp-tails, and Hungarian Partridge.
At dusk we are back at the lodge for a hearty home-cooked meal and some stories from the field.
One of the main pre-requisites of a great hunt is the ability to access prime farmland where waterfowl feed. We are fortunate to have lifelong relationships (at least two generations) with majority of farmers in the area. This collaboration creates the essential opportunity to hunt birds in numerous feeding grounds and more feeding grounds always equals more birds!