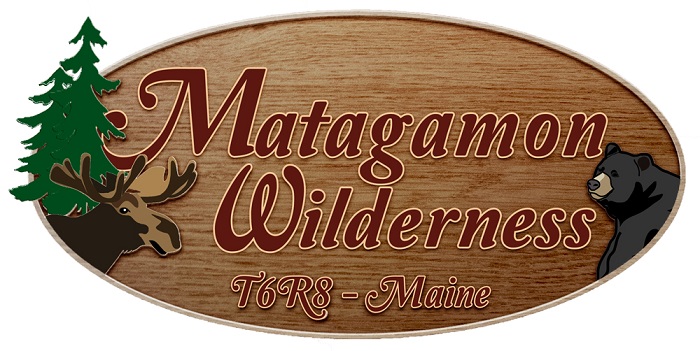 Fishing & Hunting in North America
Welcome to Matagamon Wilderness Camps:
We  specialize  in  Trophy  Black  Bear,  Moose,  Whitetail  Deer,  Coyote,  and  Partridge  hunting,  in  some  of  the  best  habitats  in  Maine.  We  also offer  Native  Brook  Trout  and  Landlocked  Salmon  Fishing  on  some  of  Maine's  pristine  waters.
Maine Black Bear:
Here at Matagamon we specialize in archery, pistol, and rifle hunts. We have ladder stands and or ground blinds. So we can set up the hunt for you with which ever you prefer!!
Whitetail Deer:
Seasons currently run: the month of October for archery; the first 4 weeks of November are rifle season; and the week following Thanksgiving week is for muzzle-loading. Archery hunting is very light in this area. The first three weeks in November have the most hunting pressure; the last week of rifle season and the muzzle-loading week, you probably wouldn't see any other hunters in the woods.
Trophy Moose:
According to state wildlife biologists, Maine's moose population is estimated at 29,000. For the 2002 season, the success rate for hunters was 84.8 percent. Hunters killed 2,545 moose out of a possible 3,000 permits issued. Yearling and older bulls typically account for 75-80 percent (of the "any-moose permit holders") of the harvest. Even in prime age classes, bulls account for about 80% of the "any-moose permit holders". Every year, several moose exceed 1,000 lbs. dressed weight.
Coyote Hunts:
Our Coyote hunts are done over active baits using the lucky blinds pictured here. Heated with small propane heaters, they can be quite comfortable on cold winter days. All blinds are located on the shores of lakes and ponds or large open meadows with shots of up to 200 yards.
Bird Hunts:
We also Bird Hunting with a registered Maine Guide and Bird Dog.