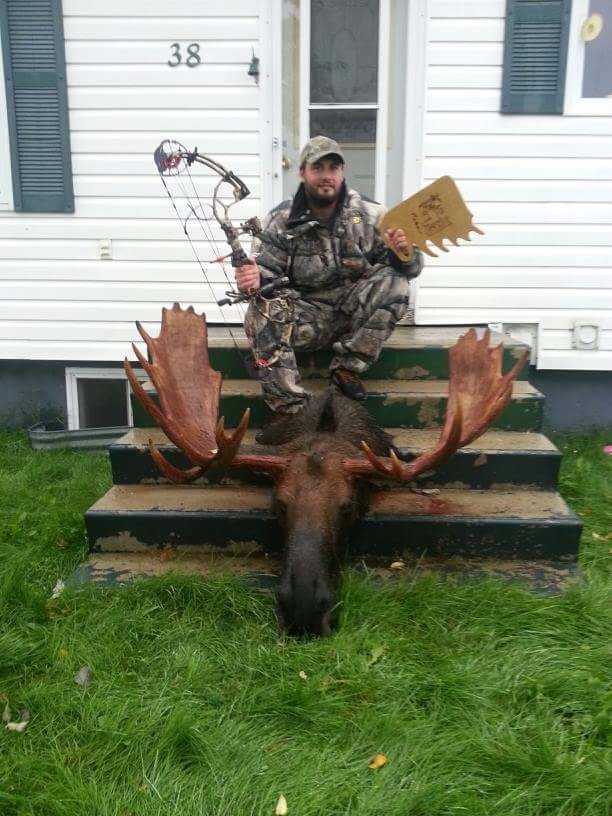 Fishing & Hunting in North America
Camp Esnagi

Camp Esnagi Ontario Archery Bull Moose Hunts:
Train in for your 2018 Archery Bull Moose Hunt:
2 spots Sept 22 thru 28
1 spot Sept. 28th thru Oct. 5 2018
Private 1 on 1  or party of 2 Bull tags Included.
Includes 7 full days hunting, experienced guide, cabin, all meals, boats & motor, canoe, flat bottom boat, gutting, quartering, deboning of animal.
Anytime fishing included.
Train in from White River or Sudbury ON.
Barge transport provided from train stop to camp and back.
Bull Tags included.
Including Crossbows.
Now taking reservations for 2019 & 2020
Our guide Mathew Poulin is a very experienced moose hunter and has spent many seasons hunting wildlife management unit 22, which is Camp Esnagi's home turf. He has personally harvested 23 moose; 5 of these have been 55 plus inch bulls, all taken with a compound bow. Moose hunting is a real adrenaline rush for Mathew, having called numerous trophy bull moose into killing range of a bow (5-20 yards he states).
Last Minute Special: $5800 Canadian Funds per hunter plus tax, license, export permit, train fare.
Price reduced by 1000.00!
Now $ 4,800.00!!!
Contact Paul for  dates and complete details.
Paul & Aynslie Kuysten
235 Carson Park Drive
Lorette, MB
CANADA
R0A 0Y0
Phone: 204-937-4007
Email: kuysten7277@mymts.net
Website: https://campesnagi.com/