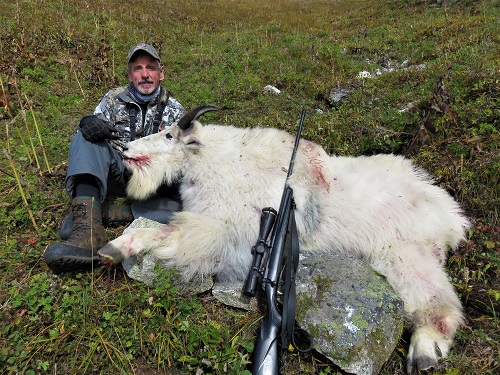 Hunting in North America
Alaska Cross Country Guiding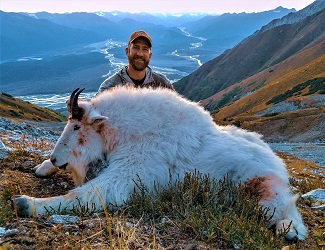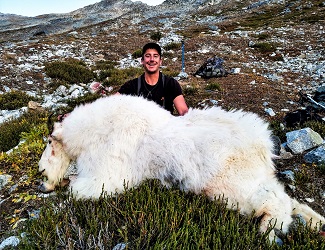 Hunt the GIANT "GORILLA" MOUNTAIN GOATS of Northern Southeast Alaska.
It is a biologically- proven fact that the Mountain Goats of the greater Haines, Alaska area are the largest bodied Mountain Goats in the world.
Over many years of hunting gigantic Billy Goats, my claims of harvesting 400 pound Mountain Goats were dismissed by biologists; until the Alaska Department of Fish and Game instigated a Mountain Goat survey in which they darted and weighed several animals within our permitted Guide Use Area.  Imagine their surprise when they discovered that the mid-summer weight of some Billy Goats exceeded 390 pounds.  I know that we sometimes harvest fall-weight goats that exceeded 420 pounds.
It is a local genetic anomaly that causes our Goats to grow to such immense proportions, and to harvest one of our unique "Gorilla Goats" in fall pelage is to harvest one of North America's most prestigious trophies.
The horns of our mature Billy Goats have unusually thick bases, and they will commonly reach a length of nine and three-eighths inches, and some Goat horns may occasionally reach a length of ten inches or longer.  We have taken several Billy Goats that qualified for the Boon and Crocket Record Book.
The Goat pelts start to winter-up in late August, and by mid-September, they are very respectable trophies.  Before mid-October, the pelts are fully winter-prime.
Only 3 spots remain for Oct of 2021:
These are 10 day hunts.
Last Minute Special: 11,500 
For at least the last twelve years, every one of our Goat Hunters that completed their hunt shot a Goat.  We have the highest success-rate in the industry, and we consistently harvest the largest Billy Goats in the world.
Check out the video: https://www.youtube.com/watch?v=oUlkRvNuheM&t=43s
Contact Al for complete details:
Al Gilliam
Alaska Cross Country Guiding
PO Box 731
Haines, Alaska 99827
Phone # 907-767-5522
Email: al.gilliam@hotmail.com
Website: www.alaskabearandgoathunting.com