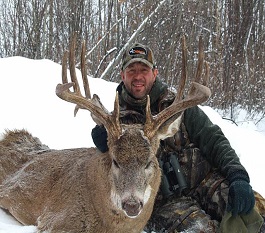 Hunting in North America
Alpine Outfitters

Deer Hunting in Alberta with Alpine Outfitters:
This area is Last Minute Hunting and Fishing's Go to area for big Whitetails…see ya there!
Alpine Outfitters whitetail deer hunting zone is a mix of agricultural land and forest in Alberta, nestled in the foothills of the Rocky Mountains.
Prior to your hunt, the area will have been scouted and tree stands and ground blinds put into place. These stands and blinds are primarily located in a forest of deciduous and coniferous trees with many cut-blocks and pipelines.
You can expect to see whitetail deer in the 140-180+ point range. Our goal is to try and harvest bucks 150+ in size.
Whitetail Deer November Rut Hunts:
The whitetail deer rifle hunts are in November when the bucks are in the rut.
We hunt by calling, rattling, and stand hunting. We hunt close to the doe herds, as the bucks will travel large areas in search of hot does. Because of the lack of hunting pressure and the heat of rut, the bucks will move all day in search of does.
We have our hunters hunt all day in order to maximize their hunting time and increase their success rate. We use good equipment and quality stands to ensure our hunters remain warm and comfortable during their deer hunt.
Our hunts take place from our fully -furnished lodge located 40 minutes south of Grande Prairie, Alberta. With 3 bedrooms in the lodge, you will be assured a comfortable night's sleep. A dining room and fireplace create a relaxed atmosphere for unwinding after a day's hunt.
With bedding, towels and laundry service supplied, it is easy to travel with a minimum of luggage.
Available dates: 7 to 13 of Nov. 2 spots and the 14 to 20 of Nov. 2021  2 spots remain.
Regular Price: $4900.00
Last Minute Special: $3900 includes Wolf tag. Reduced to 3700.00 act fast!
Contact Lowell to secure your date.
Lowell or Shawnelle Davis
780 876 5553.
Box 79
Grovedale Ab.
T0H 1X0
Email: trophytracker@gmail.com
Website: alpineoutfitters.com