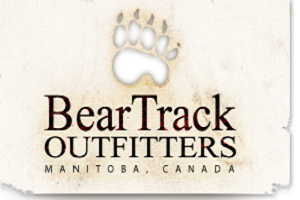 Hunting in North America
Bear Track Outfitters
Manitoba Waterfowl:
Our waterfowl hunts are first-class. We boast numbers of birds that is unrivaled. In Manitoba you will have the opportunity to hunt all kinds of different species of waterfowl; everything from Canada's, widgeons, mallards, redheads, canvasbacks, woodies, blue/green wing teal, etc. We hunt mostly from layout blinds, but also hunt sloughs for ducks.
Season: 24 September 2018 – 30 November 2018
Our success rate is extremely high. I cannot promise you will kill limits every day as it is hunting after all, but you will shoot at birds every time we go out. That being said, most often you will shoot your limit.
Included:
Transport on territory
Transfer from/to airport
Guiding by PH
Hunting license
Gun rental
Accommodations
Breakfast
Lunch
Dinner
Tea/Coffee
Last Minute Special: $2000.00
Manitoba Fall Bear Special:
We manage our 1,400 square miles along with our wildlife experts, by not over hunting our bear herd. Manitoba boasts the best managed bear herd and conservation program in Canada. We regularly take bears over 12 years old with our oldest sow taken being 27.5 years old and our oldest boar being 31.5 years old. Pope and Young bear are common with approx. 1 per year will make Boone and Crock
Once you arrive in camp on Sunday, we'll issue your hunting license after you're settled in. After dinner we'll go to the shooting range to check firearms. Bow hunters are welcome to keep their shooting eye sharp at our archery range on a life-size bear.
You'll be hunting our allocation of 1,400 square miles of pure remote bear habitat accessible by ATV, Argo and boat.
Our Area is well known for not only the size of bears with exceptional skull size, but a healthy number of bears. Guests at Bear Track Outfitters enjoy a 30% color phase in our bears.
5 day hunts choose Sept. 1 or week of Sept. 16th 2018
Last Minute Special: 3000.00
Contact:
Brandon Friesen
BearTrack Outfitters
360 Valerie Lane, Steinbach, MB, R5G 2A1
E-mail: beartrackoutfitters12@gmail.com
Phone: 204-381-1091
Website: http://www.beartrackoutfitters.com