Hunting in North America
Bearfoot Adventures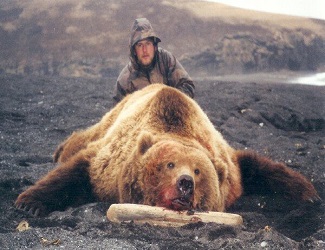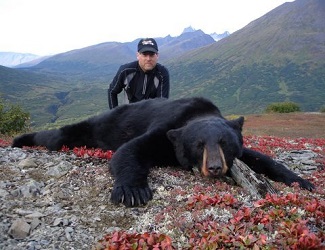 Alaskan Combo!
Baited Black Bear special for June 5-10th and 10th-15th  2020
Regular price 5500.00
Last Minute Special 3500.00
Coved 19 extras include: unlimited toilet paper and mask!
Price includes transport to camp and a Black Bear ,first black bear does not have a trophy fee,
Brown Bear for a $5,000 trophy fee instead of $10,000.
Second black bear for $2500.
All food and accommodations are take care of once you leave town and get to the field.
License $160 and tags, Black Bear $450, Brown bear, $1,000 not included.
Hunters need to get to  Anchorage.
Brown Bear:
We have taken two brown bears with skulls over 27 inches in the last few years. Many of our hunts are from comfortable cabins and can be combined with a Black Bear hunt in the Spring.
Black Bear:
Spring baited hunts for Black Bear. Our baited hunts are out of our camp. We have comfortable blinds as well as cabins for sleeping and cooking.
Trophies are up to 7 ½ ft.; This is a great Spring hunt when combined with a Brown bear.
Contact:
Chet Benson.
Phone: 907 240 4868
Email: moreinfo@BearfootAdventures.net
Website: http://www.bearfootadventures.net/