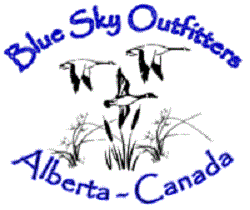 Hunting in North America
Blue Sky Outfitting

Alberta Whitetail Hunting….only 2 spots available!
9 day Whitetail deer/ Wolf Combo Hunt dates November 2022
Guided Alberta Whitetail Hunt  $7,000 USD plus GST (5%) 
SAVE $1,500 
We would like to thank you for considering or choosing our family operation for your Canadian hunting destination. We have been providing clients World Class Adventure hunts in the Peace River of Alberta for the past 2 decades.
Alberta whitetail hunting is some of the finest free range deer hunting available in North America, with deer numbers on the rise and the age class of the deer abundant its one of Canada's top producing provinces.
Northern Alberta, along the boreal forest and farmland fringe is considered one of the best areas that an out of country hunter (non resident) can come hunting, the abundant food source from the agriculture along with the thick boreal forest for cover gives them all the nutrition and bedding areas they need to sustain a healthy population. There is no telling what a hunter might see while hunting the vast wilderness Alberta has to offer!
If big Whitetails bucks are your passion this is the hunt for you. Imagine a place that has superb genetics for big Whitetails, low pressure virtually un-hunted Whitetails where lots die from old age. A area where big mature bucks can and will move all daylong in November. A place where you can legitimate opportunity to harvest a executional whitetail deer.
The Hunting Area in Alberta
We hunt Whitetail deer in the Northwestern corner of Alberta, Canada. Where the rolling grain fields meet the forest fringe, creating some the best ground for our deer and moose to produce large amounts of antler. Our area encompasses  consists of 90% government land and 10% farmland land.
Hunting free range whitetail in the vast wilderness of northern Alberta is no easy task.  Hunters who can sit all day in a stand prepared to shoot at any moment often do well. Your guide will either drop you off and continue to scout throughout the day, or can go with you to guide you for the whole day, all trophy judgment is entirely on you and often requires a quick decision. An experienced or avid hunter that puts forth a solid effort can expect a 75% plus shot opportunity at a mature whitetail of 150″ plus.
What do you get whitetail deer hunting with Blue Sky Outfitting?
An area with huge northern Alberta whitetails.
An excellent chance to kill a heavy 150 to 160 score deer.
The possibility for a huge 170+ score whitetail deer.
Well scouted stand sites in both private agricultural land and public forest areas.
A small, generally 4 hunters max, lodge hunt in the peak of whitetail deer rut.
Alberta Whitetail Deer Hunting
Alberta, Canada is well known for its huge whitetails and the Peace River country is one of the best areas for trophy whitetail deer hunting in North America. Our zones have a perfect edge whitetail deer habitat where there are large sections of woods that back up to farm fields. The giant Alberta whitetails get good feed and are able to hide out and grow to maturity. Whitetail hunting is either out of stands set on the edges of the opening where the does congregate or back in the thick woods on open cut lines not far from the fields. Or by spot and stalk .
These locations are well scouted and thoughtfully chosen before your arrival.
McLennan Alberta, Canada is well known for its huge whitetails and is in the heart of Alberta's Peace River country is one of the best areas for trophy whitetail deer hunting.
An excellent opportunity to harvest a great 140 to 160 score deer with the opportunity for a huge 170+ score whitetail deer.     Well scouted stand sites in public forest areas.
US Per person 50% deposit per person to hold your dates remainder due 90 days prior to your hunt dates.
Contact:
Blue Sky Outfitting
Kevin & Patti McNeil
P.O. Box 427 ~ McLennan, Alberta, Canada T0H 2L0
Phone: 1 780 536 7290
Email: aylmerlakelodge@gmail.com
Website: http://www.blueskyoutfitting.com/