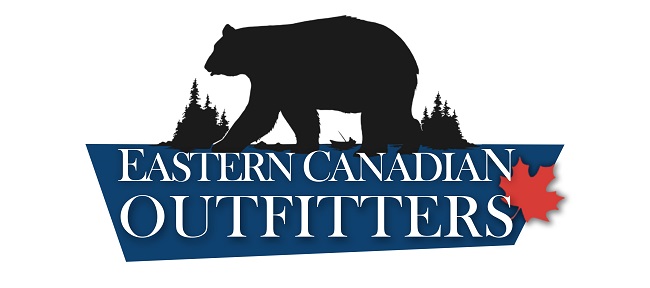 Fishing & Hunting in North America
Eastern Canadian Outfitters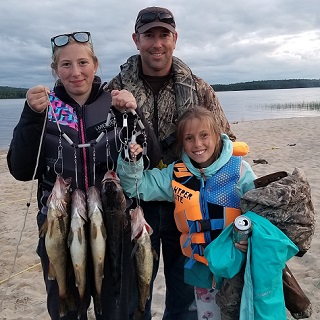 Fish are  Biting!
We're now open to groups of up to 10 from 3 different households.
ECO Camachigama Fishing Package:
NEW FOR 2020: ECO Camachigama is a new addition to the Eastern Canadian Outfitters family of destinations. Located in the Abitibi Temiscamingue region of Quebec, Lac Camachigama is a 26 sq. km remote wilderness lake and is part of the greater Camachigama river waterway. Long known as one of Quebec's premiere walleye fisheries, this continually reproducing waterbody offers trophy yellow and blue walleye, sauger, northern pike and even lake sturgeon. The central island location featuring 12 cabins with electricity, hot/cold running water, shower, wood burning stoves and refrigerators, make your wilderness adventure that much more comfortable. A short 15 minute ride on our Barge from the parking area/landing takes you to the centre of the lake and Grosse Ile (Big Island), which acts as our home base of operations!
Pricing includes accommodations, motorboat and first tank of gas. Additional Motor boat rental: $60 including 1 tank of gas.
Upgraded camps: (Incl. Princecraft Yukon Dlx boats with seats, fish-finders and 4 stroke motors; gas grill and covered front porch)
Last Minute Special: Summer special of $750 plus taxes per adult with kids under 16 free. 7 nights.
Valid June 27th to Sept. 13th.
Eastern Canadian Outfitters….Moose Madness!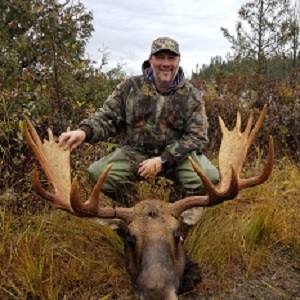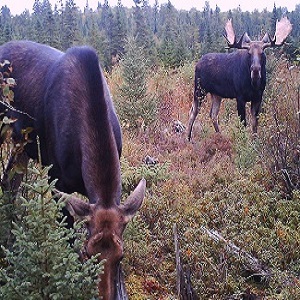 ECO Camachigama Inc. 2020 Moose Packages
info@easterncanadianoutfitters.com
 Pkg. #1.
$825 pp. plus licenses and taxes for Do It Yourself (DIY) camp/territory. Minimum 3 paying hunters ($2475). 7 days/7 nights, Saturday to Saturday. 1 bull moose for every 3 paying hunters. ie. 2 moose allowed for a group of 6.
Pkg. #2.
$1500 pp. plus licenses and taxes for VIP camp and prepared territory with established stands and mineral licks. Min. 2 paying hunters ($3000). 7 days/7 nights, Saturday to Saturday. 1 bull moose for every 2 paying hunters.
Add $1500 plus taxes for fully guided option (6 days).
Pkg. #3. Seasonal camp lease.
 $2000 pp. plus licenses and taxes for DIY camp/territory. Exclusive use of camp and territory for 4 weeks of moose hunting and 4 weeks during spring/summer. One bull moose and approx. 10 km2 for 4 hunters ($8000) or two bull moose and approx. 20km2 for 6 hunters ($12 000). Please contact Rob for details.
For all packages above, Please Note: No party hunting in Quebec, once a moose is harvested two tags must go on the moose finishing the hunt for those two license holders.
Cow "tags" available for $250 each.
5 week season beginning Sept. 12h ending Oct. 18th, 2020. Maximum 3 groups per territory per year.
All packages include accommodations in a rustic remote fly in or drive in camp, propane and firewood, boat, fishing and small game hunting (appropriate licenses must be purchased) and exclusive territory of 10 to 25 km2 depending on size of group.
Boat motor rental (2 stroke, 9.9hp) is $300/wk incl. 2 tanks of gas.
This is a drive to camp in a game rich area of Quebec.
Contact:
Rob Argue
Eastern Canadian Outfitters
Phone: 613-285-7555.
Email: info@easterncanadianoutfitters.com.
Website:www.easterncanadianoutfitters.com