Hunting in North America
Gunson Guiding Saskatchewan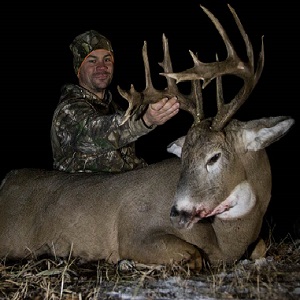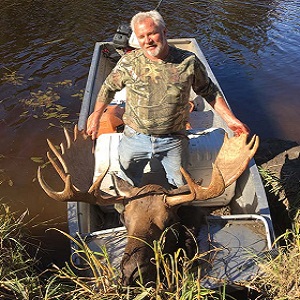 2020 Saskatchewan  Whitetail or  Moose…..Plan your adventure Now!
Canadian residents:
Covid prepared:
If you have ever wanted to hunt Saskatchewan Whitetails or Moose….. here is your chance:
Itinerary: – Hunters arrive in camp on Sunday afternoon – hunt Monday-Friday and depart Saturday morning.
Remote – Wilderness – Camp: – 10 miles past 'the end of the road', is our base camp, an old-school trappers camp on the banks of the Torch River. To get there you will probably travel by all three of 4wd truck, ATV, and possibly boat… It's tough to get there. – Modern (since 1950) 'upgrades' include a generator for basic electric service (lights, etc), a shower house, and wi-fi (via satellite). No phone. – The hunts are not physically demanding, but you must be able to 'get around' – in & out of boats, up and down river banks and tree stands – and you must be able to travel on atv's. – It can be COLD in November.
Game: – We manage harvest rates very carefully. We expect our hunters to 'hold out' for a mature buck ~140 class, or better. We assume you are not coming to Saskatchewan to shoot a deer you could easily get at home.
Hunt Includes: – Accommodation: 2 log guest cabins, with wood stoves, which comfortably sleeps yur group.  Guides provide transport to & from stands (via boat and/or ATV). – Multiple pre-baited stands, scouted with trail cameras, for your guides to select from. – Deer retrieval, skinning & prep for transport home or to a taxidermist (usually freezing). – Fishing – in the river at camp. The quality of the fishing varies significantly with the water levels / ice conditions.
Does Not Include: – Transport to/from the hunting area: our hunters typically drive up, or fly Saskatoon and then rent a vehicle. – Transport of unlimited 'stuff' from your vehicle to camp. If you bring 'too much stuff' we will leave some at your vehicle.
Canadian Covid Special: 
For group of 4 hunters: 10,000 (2500 ea. CDN) +tags & taxes.. Private  clean cabins for your group, you bring and prepare your own meals. Guides are in separate quarters.
Last Minute Moose:
3 spots left.
These are 10 day hunt.
2 on 1 fully guided 7500
1 0n 1 10,000
Jake and Cecilia have been working in the Guide/Outfitting industry since 1989. GGO was established in 2001, with an 'archery only' Whitetail operation in Manitoba. We now offer quality wilderness hunts in both Saskatchewan and Northern British Columbia.
Please call or e-mail to discuss you next hunting adventure!
2020 Dates & Pricing – Call for availability on specific dates.
Nov. 15 – 21
Nov.22-28
All in Price: 4,666.00
SPECIAL:  Nov. 29-Dec.06: Camp will be open for just 2 (two) hunters.  $8000 total price ($4000 pp) for a group of 2.  Great opportunity to hunt the tail end of the rut when the big bucks start coming back to the baits.  You will have camp to yourself!
Contact Jake now to reserve your spot:
Jake Gunson
Phone:  250.500.2717
Email: jake@ggoutfitting.com
Website: www.ggoutfitting.com