Fishing & Outdoor Adventures in North America
Limberlost Forest and Wilderness Reserve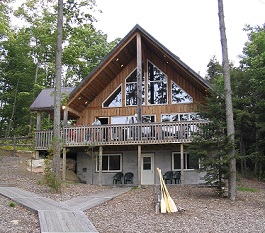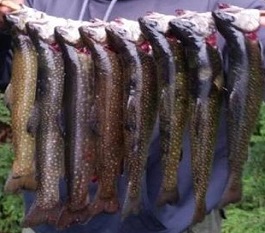 Limberlost Forest and Wildlife Reserve:
This property is a publicly accessible private year round haven. With twenty lakes and 10,000 unspoiled acres and mixed forest located minutes from the town of Huntsville, Ontario Canada.
The private forest reserve contains more than 70 km of hiking, biking and snowshoeing and 25 km of cross country ski trails with unlimited kilometers of back country skiing. The trails are all made to the public at no charge and are open daily from 9:00-5:00.  We encourage the use of the forest visitors and eco-tourists at no charge. We support environmental programs and institutes and offer both modern and traditional land use to the community. Our objective is to offer continued free access to the forest.
Buck Lake Lodge:
Buck Lake Lodge has soaring windows providing breathe taking views of Buck Lake further enhancing the open concept living/dining quarters of this lodge. A wide wrap around veranda allows easy outdoor adventures in seclusion close by the unspoiled water of Buck Lake.The lodge is the only dwelling on this lake. You only need to bring your food, drinks, towels and toiletries.
Sleeps 14 people
– 2 bedrooms each with a double bed
– 5 bedrooms each with 2 twin beds
– 2 full bathrooms on the main floor and shower and sauna on the lower level
– fully equipped kitchen and dishwasher with two refrigerators
– Wood stove, firewood provided
– BBQ and propane
– Bedding provided
-Minimum Occupancy of 7
– Lake is privately stocked with Rainbow Trout
Excellent ice fishing getaway.
The rates are Sunday – Thursday $49.50 per person per night with an additional $40 a day for fishing and Friday- Saturday $99 per person per night with an additional $40 a day for fishing.
Helve and Maniwaki Fish Camps:
These cabins are for those who enjoy the more rustic accommodations in the wilderness. Life on Helve Lake is particularly appealing for those who seek privacy and the joys of nature.  With excellent bass and speckled trout fishing to keep you busy year round. Both camps equipped with kitchen facilities, a living/dining area and a wood stove. You only need to bring your bedding, fishing tackle, food, drinks and toiletries. This privately stocked lake is any fisherman's dream!
Sleeps 8 people
– each have 2 bedrooms with a bunk with a double on the bottom and a twin on the top as well as a twin bunk.
– No electricty
– Propane lights, fridge and stove
– Washroom with a gravity flush toilet
– Stove has 2 elements and a large grill pan
– BBQ and propane
– Heated with wood stove, firewood is provided
– Lake is privately stocked with Speckled Trout
Roads leading to camps require a 4-wheel drive vehicles in the winter
Rates are $115 per person per night with a minimum occupancy of 4.
Contact:
Address: 1088 Buck Lake Landing, Huntsville, ON P1H 2J6
Office: (705) 635-1584 between 9:00 a.m. and 5:00 p.m daily
Email: limberlostfwr@gmail.com
Website: https://limberlostforest.com/