Fishing & Hunting in North America
Redbone Outfitters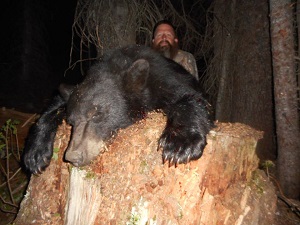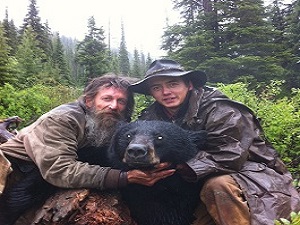 Idaho Spring Bear hunts 2018
Spring Bear hunts  are conducted from the main Base camp where all client tents are fitted with sleeping cots, electric lighting and good wood stoves. The Base camp also has a fully supplied cook tent where the camp cook will prepare all meals during the hunt. We keep trail camera's on all Bear hunting baits and bait every bear bait daily in addition every client will have a 2 way radio on stand with them. We offer bait and hound hunting on our bear hunts but the most successful Bear hunting is from tree stands over bait. We use the older clamp on style tree stands and most are located from 20 to 75 yards from the bait sites. All Bear hunters are required to bring their own safety harness for the stand.
At this time we have a few openings in these 2018 Spring Hunt dates…
May 28-June 1
June 18-22
Regular Pricing:
5 day spring bear hunt (bait) – $2550
5 day bear hunt (hounds) – $3200
Non hunters – $1500 if we have room available
Last Minute Special 10% off all remaining Spring bear hunts.
Last Minute Exclusive: mention this ad and take an additional 10 % off !!!!
Idaho has over the counter licenses and tags for Bear in this area. You may purchase online or at the local license provider. Cost is approximately $200 for the license and tag. This is a 2 bear area and we charge a additional $500 if you HUNT for the second bear.
2018 is here and we have a few openings in the following hunts.

3 day Prairie dog hunt…$1250  July
5 day Mule deer hunt…$3500    November
7 day archery elk…..$4500  September
3 day Summer camp/fishing….$1250  August
This is the ultimate high country lake fishing!
Bud just got these lake trails opened and 2 of them haven't been fished in 30 years.
Native cutthroat up to 16 inches in 1 lake.
Contact:
Bud Martin
Redbone Outfitting
48337 US HWY 191 S
Zortman, MT 59546
Phone: 406-370-5419
Email: bud@redboneoutfitting.com
Website: http://www.redboneoutfitting.com/