Hunting in North America
Redbone Outfitters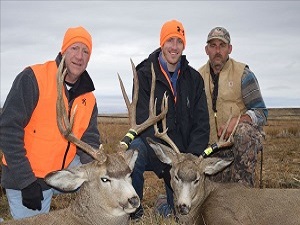 Get next Falls Mule deer hunt booked now while we have open dates.
On your Montana Mule Deer hunt you can expect to see 20-30 mule deer a day under normal weather conditions. The rut peaks about November 10 and lasts through the season. Guide/Hunter Ratio: All mule deer hunts are guided on a 2 or 3 on 1 basis unless special arrangements are made prior to your hunt. Check out the accommodations page to view the camp.
These will be the available Mule deer hunts we will offer for the 2020 season…
October 26-30
Nov. 2-6
Nov. 9-13
Nov. 16-20
Nov. 23-27
All the above dates have some openings currently available,
Give Bud a call for pricing at 406-370-5419 to get your spots booked early.
Redbone Outfitting
48337 US HWY 191 S
Zortman, MT 59546
Phone: 406-370-5419
Email: bud@redboneoutfitting.com
Website: http://www.redboneoutfitting.com/