Hunting in North America
Rocky Mountain Ranches Ltd.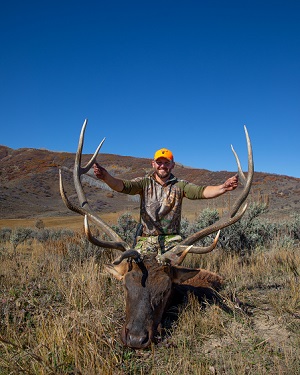 Rocky Mountain Ranches has 6-7 openings for our Ranching for Wildlife elk hunt Jan. 1-5, 2024 due to a cancellation.  
Our Ranching for Wildlife elk hunts are conducted on a 13,500 acre high desert ranch in unit 3 near Craig, Co.

  

This high desert terrain is a major travel corridor for elk migrating down from the majority of Northwest Colorado's high country. The majority of this migration occurs after the major rifle seasons and that is why most hunters will never get to hunt the peak of this spectacular migration. Because of our special RFW seasons, we get to hunt these migrating elk well after the major rifle seasons and truly optimize your hunting experience. As with all of our hunts, it's the concentrations of critters that make these hunts so successful. 

  

These are elk that spend most of the year living at high elevations in nearby mountain ranges. This allows us to hunt a great concentration of elk in a moderate high desert terrain and is why we see such good success on this elk hunt.

  
There is no need to draw tags for our RFW hunts as our land owners have tags in hand.

  

You still have to pay the state license fee which is not included with the hunt. This hunt is usually our most successful elk hunt.

  

But, with any migratory hunt, warm weather and a lack of snow can make for a slow hunt.

   Luckily our January week is very unlikely to have warm weather or a lack of snow.  
All of our hunts are non-guided.  We will meet you the day before the hunt starts to have a mandatory ranch meeting and tour. 

 
Regular Price: 4200 (plus license.)
Last Minute Special: 3900.00 (plus license)
Colorado Archery hunt Cancellation Special:
 Rocky Mountain Ranches has an archery Elk hunt on a 4000 acre moderate Elk ranch in unit 13 near Hayden, Co.   About half of the ranch is lower and consists of open mountain park terrain with draws, brush, ponds and rolling sage.  The other half of the ranch is much more mountainous with 2 large canyons, big mountains, steep ridges, aspen glades, ponds, springs and lots of thick oak brush.  There are 4 main interior ranch roads that bring you close to the oak brush edges where the hunting starts to get good.  You can also access the ranch from a county road that runs on the far side of the property.
This ranch fills with up to 4 hunters in archery and we will have 4 blinds set on the best water holes.
Dates are Sept. 21-25 2023.
This hunt is offered at $2900 per person and our prices do not include the cost of your OTC archery tag.
Feel free to look over our website at 

www.RockyMountainHunting.com

.  Under the testimonials section, you can see hunter reviews with pictures and video.  We can also provide references upon request. 


Our Facebook page is another great source of recent pictures and video.

  

There is a link to our Facebook page on the home page of our website or you can go directly to 

facebook.com/RockyMountainRanches

.
Please let me know if you have any questions.  Always feel free to contact me directly 

at 970 439-1894.

  

Or, feel free to try my cell at 970 439-1911.
RMR is always available to answer your questions at: iOwner/Outfitter
Joe Monchelli Owner/Outfitter
Co. Reg# 2689
(970) 439-1894
Email: Info@RockyMountainHunting.com
For more info, please visit our website: http://www.rockymountainhunting.com/