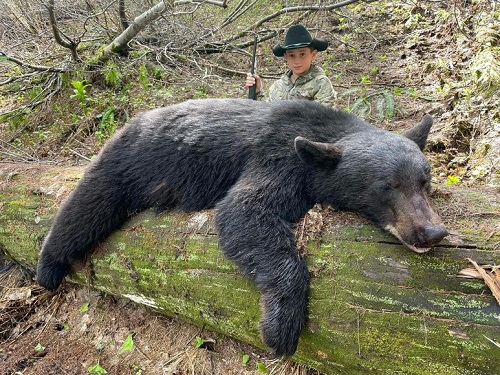 Hunting in North America
Russell Pond & B bar C Outfitters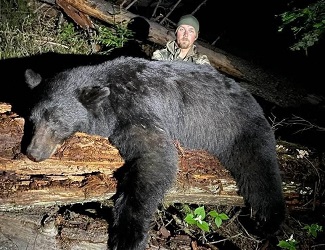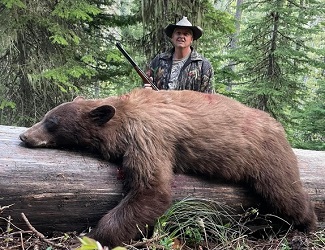 2023 Idaho Spring Bear!
Russell Pond and B bar C Outfitters is proud to be amongst Idaho's best bear outfitters and guides. As a serious Idaho bear outfitter, we spend an immense amount of time to bring you a great bear hunt in Idaho. We have just a few spring 2023 spots and fall 2023 is filling in fast.
We consistently produce excellent bear hunting results, with decades of high kill rates. IDFG unit 10 allows for combination bear and wolf in spring, and all fall hunts can be a combo with wolf and bear if desired. Feel free to contact us and discuss the reasons why we are a great choice.
 Our region of Idaho offers some of the best bear hunting in the United States. We do have a two-bear limit area available indicative of the excellent bear population. This region features the unique occurrence of the 4 color variations of black bear. Our harvest for the last several years, has been 50 to 60% color phase bear. When blacks are chosen it is generally for large size or prominent "V" marking on the chest. Located in the lush Bitterroots, our areas boast some of the most spectacular scenery to be found anywhere. The spring weather is generally mild with wet periods. Best of all for our bear hunters on stand – there are NO BUGS. That's right, none of the plague of black flies you will find in the Canadian Provinces while Spring hunting.
Over the counter tags, No wait no draw.
Idaho has some 2023 Bear spots open May 7th 4-6 hunters, or 28th 2-3 hunters and June 18th  2 to 3 hunters.
Call for details and pricing mention this ad to get 15% discount"
Last Minute Special 2900 
Contact:
Russell Pond Outfitters
P.O. Box 512 St. Marie
Idaho 83861
Inga Cabral
Phone: 208 582 1886
Email: ingacabral@gmail.com