Hunting in Mexico
Sonora Mexico Desert Trophy Outfitters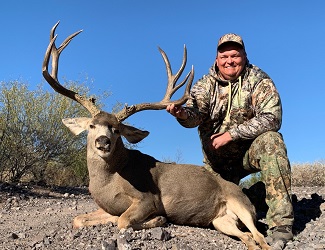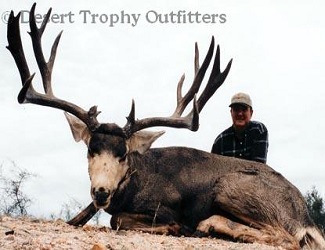 SONORA DESERT MULE DEER HUNT:
WE OFFER TOP QUALITY ON MULE DEER HUNTS AND THE BEST EXPERIENCE SONORA HAS. WE WORK HARD AND DO THE BEST WE CAN SO OUR GUEST FEEL COMFORTABLE AND IN A VERY PLEASANT TRIP, SO YOU CAN FEEL RIGHT AT HOME ON YOUR STAY AT THE RANCH.
WE HANDLE OUR LAND WITH THE BEST CARE TO ENSURE THE QUALITY OF OR ANIMALS YEAR AFTER YEAR.
OUR MULE DEER HUNTS ARE CONDUCTED IN THE SONORA DESERT WHERE THE ENVIROMENT IS THE PERFECT HABITAT FOR DESERT MULE DEER. THE SONORA DESERT IS MOSTLY FLAT COUNTRY WITH SOME ROLLING HILLS COVERED WITH MESQUITE TREES, CACTUS AND TANGLED BRUSH.
ALL OUR HUNTS ARE GUIDED HUNTS CONDUCTED 1X1 BY QUALIFIELD GUIDES WHO ARE VERY FAMILIAR WITH THE TERRAIN, TRACKERS AND AND VERY GOOD JUDGEMENT ON THE DEER SIZE THE HUNT WILL BE A COMBINATION OF DRIVING ON HIGH TOWER VEHICLES, TRACKING AND SPOTTING.
OUR HUNTS BEGIN AT THE 5:30 AM  YOU WILL TREATED TO MEXICAN STYLE BREAKFAST BY OUR FULL TIME COOK   AND THEN HEAD OUT TO THE HUNTING AREAS WITH YOR ASSIGNED GUIDE AND DRIVER, WHERE YOU WILL  HUNT UNTIL SUNSET, WITH A LUNCH. IN THE EVENING YOU WILL RETURN TO CAMP AND AFTER RELAXING HOT SHOWER YOU WILL BE TREATED TO AN EXCELLENT DINNER AND WINE ACCOMPANIED BY THE OTHER HUNTERS.
SONORA DESERT MULE DEER HUNTS  DATES: JANUARY 1 TO JANUARY 31
 MULE DEER  HUNT  $10,000.00
GUIDED 1X1
4 HUNTERS MAX PER CAMP
ROOM/BOARD
TRANSPORTATION FROM AIRPORT TO RANCH AND RANCH TO AIRPORT
6 FULL HUNTING DAYS (8 DAY TRIP)
ALL LICENCES, PERMITS AND TAXES FOR ONE DESERT MULE DEER.
THERE ARE SOME GREAT COUES DEER ON THESE RANCHS, IN THE CLASS 100 B&C AND UP, IF HOWEVER, YOU SEE A COUES DEER WHILE YOU ARE HUNTING MULE DEER, YOU CAN SHOOT IT. PAYING ONLY THE TROPHY FEE $ 4000.00. DON´T PASS UP THE OPPORTUNITY, THEY ARE LITTLE ANIMALS TO SEEN AND SHOT. THEY ARE ONE OF THE BEST TROPHIES IN NORTH AMERICA.
Last Minute Special; 8500.00
PRICE INCLUDES:
Accommodation
Gun permits
Hunting license
Trophy measurement
Transport on territory
Transport from and to airport
Breakfast
Lunch
Dinner
Snacks
Drinks
Ammunition included if you choose to se one of our guns.
For complete details contact:
Roberto Ciscomani Campuzano
Hermosillo, Sonora, México
14 Abril & Tlaxcala # 282, Col. San Benito.
Phone: 011 52 (662) 25 61478
Nogales, Arizona
441 N. Grand Ave. Suite 4 PMB 103
Zip: 85621
Email: info@deserttrophy.com
Website: http://deserttrophy.com/default.htm