Hunting in North America
Tioga Ranch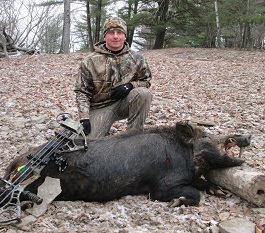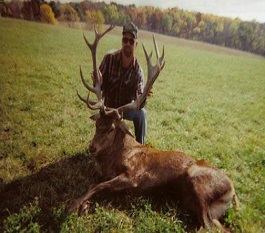 Summer and Fall Specials:
Meat Hog Hunts.
Our meat hog hunts will average 180lbs and are only $500.00 Monday-Thursday and $600.00 Friday-Sunday.  These hunts are fully guided, your choice of weapon, and no license is required. These Meat hunts are available starting 6/11/18 and will be available until 8/12/18.  Call to set up your hunt quickly, only a limited number of these hunts are available.  Lodging and meals are available for $120/night, skinning and quartering for $110.00, or skinning, butchering, sausage, and vacuum sealing for $185.00.  Discounts for Lodging and processing are available for groups.
Red Stag Hunts.
Our Red Deer hunts are available from mid August to December, the most popular time of the year is September and October. To reserve one of these hunts give us a call at 570-835-5341, a 25% deposit is required.  Stag hunts include 1 night lodging and meals, you can add skinning and quartering to your hunt for $150.00, or Skinning, butchering, and vacuum sealing starting at $300.00
A $250.00 discount will be applied to your Red Stag hunt if you reserve your hunt before 6/30/18.
5×5    $3000.00
6×6    $4000.00
7×7    $5000.00
8×8    $6000.00
We also have Red Deer Hinds (females) available for this fall.  They range in price from $1500-1800.00.  If you reserve a Hind hunt before 6/30/18, you will receive a $100.00 discount.
Whitetail Hunts.
Our Whitetail hunts start towards the end of August for hunters looking for a trophy Whitetail in velvet, most of our trophy whitetails will be rubbed out of velvet by the first week of September, we continue hunting Whitetails until Thanksgiving.   Most Whitetail hunts are 1-2 days in length and are all fully guided hunts.  The absolute best time of the year for Whitetail hunting at our Ranch takes place between the second week of September to the Third week of October.  All Whitetail Buck hunts include 1 night lodging, meals, skinning, and quartering. You can add butchering and vacuum sealing for $125.00.
Management bucks (100-140) – Fully booked for 2018.
150″ $3200.00    book before 7/4/18 $3000.00
160″ $3800.00    book before 7/4/18 $3600.00
170″ $4400.00    book before 7/4/18 $4200.00
180″ $4900.00    book before 7/4/18 $4700.00
190″ $5800.00    book before 7/4/18 $5300.00
200″ $6300.00    book before 7/4/18 $5900.00
210″ $6800.00    book before 7/4/18 $6000.00
220″ $7300.00    book before 7/4/18 $6800.00
We also have 230″ and larger available for this fall, for those prices please give us a call.  Any 230″-350″ hunt reserved before 7/4/18, will be discounted $1000-$2000.00.
Doe $600.00       book before 7/4/18 $500.00
Contact Mark Now
Phone: 570-835-5341
Email: tiogaboarranch@gmail.com
Website: https://www.tiogaboarhunting.com/