Hunting in North America
Triple M Outfitters Unlimited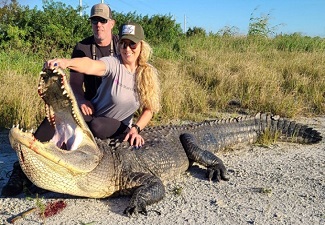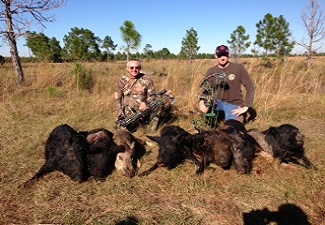 Florida's Triple M Outfitters:
Triple M Outfitters is based in Palm Bay Florida and provides guided hunting trips for ALLIGATOR, WILD BOAR, OSCEOLA TURKEY and THERMAL PREDATOR HUNTING.
Triple M outfitters is running a summer special on hog hunts from June 1st thru the end of September 2022.
Hog Hunting Special!
All hogs will be $150 each.
No kill no pay, no trophy fees, and no size restrictions.
Hunts are conducted from swamp buggy, spot and stalk or stand hunting.
Skinning and quartering are offered for $25 per hog so you can take them with you after the hunt or full processing is available for $75 per hog but this will take a day or two to complete. 100% success on hog hunts with any weapon of your choice.
Gator Hunting:
Also available all year long is our adrenaline-pumping alligator hunting. This makes for a great combo hunt.
100% success on gators as well with any weapon of your choice.
7ft up to 8'11 is $1500 with the average running 8ft.
Any gator over 9ft is $3500 with the average running 11ft.
Guaranteed tags and license and no season to worry about. We can hunt them all year long with any weapon of your choice.
Palm Bay Florida, prime private land hunts.
Feel free to call, text or email me any questions you may have. 321-863-2985 or mattcates71@yahoo.com
Matt Cates
321-863-2985
Triple M Outfitters Unlimited
www.triplemoutfittersunlimited.com