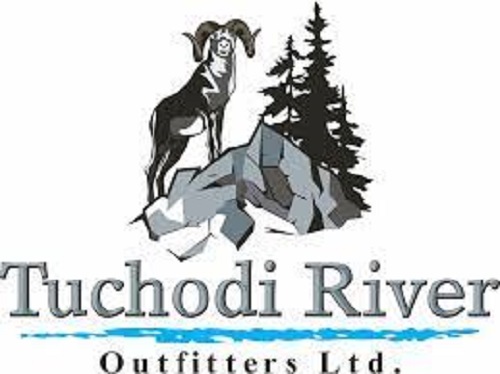 Hunting in North America
Tuchodi River Outfitters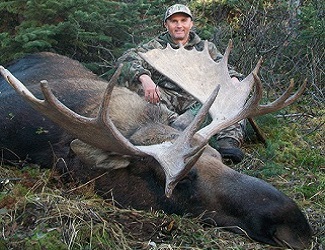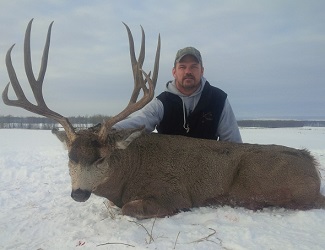 Choose your Hunt…… Moose, Whitetail, Mule deer or Combo:
Time is running out book now!
We do our Moose hunts in November either as a single species hunt or in combination with either a Whitetail and/or Mule deer hunt.
Our hunts are 1×1 guided and you will be spot and stalk hunting for the most part with the possibility of some stand hunting. Hunters will travel with their guide daily from the camp to the different parts of our area looking for a bull to harvest. Once you are successful in harvesting your moose, your guide will field dress it and get the cape and horns ready for the taxidermist. One of our guides is a trained butcher who will cut and wrap your meat for you if you choose, or you can cut it yourself or take it home quartered.
Alberta Deer hunts:
Alberta has a unique situation that allows a hunter to hold tags for both Whitetail and Mule deer simultaneously. Many areas in Alberta have both species present, however, there are few areas that produce trophy-sized bucks of each species on a regular basis. Our hunts take place in some of those areas!
These hunts take place during prime time for the deer rut in northern Alberta. The Whitetail bucks normally start rutting before the Muley bucks but both species will be in either pre-rut, rut, or post-rut behavior during the last part of November.
This is the best opportunity to harvest a mature buck that normally would never be seen in daylight hours.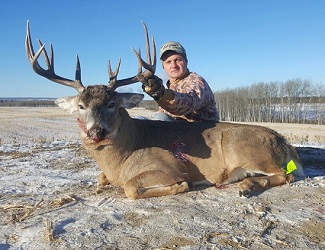 Available dates:
Nov 9-20, Nov 20 – Dec 1 2022
Mule deer                            $7500
Moose Hunt                         $7500
Mule deer/whitetail combo                $10,000
Mule deer/Moose combo               $11,500
Hunting is in the Peace Region of AB
Contact:
Tuchodi River Outfitters
PO Box 1616
Fort Nelson, BC
V0C 1R0
Phone: 905 572 0262
Email: info@tuchodiriveroutfitters.com
Website: https://tuchodiriveroutfitters.com/